Hand in Hand
As the great Henry Ford once said, "Coming together is a beginning, staying together is progress, and working together is success." With 14 Employee Resource Groups (ERGs) spread across 270 site/sector/local chapters, there are countless opportunities for employees to connect with each other on their common interests and the shared purpose of giving back to communities.
Read on to see how just a few of our ERGs are supporting their communities.
Northrop Grumman's Women's International Network (NGWIN)
NGWIN aims to energize women by providing a forum for networking, development, knowledge sharing and community outreach, while providing opportunities for advancement, leadership and mentoring.
Members of the NGWIN Space Park chapter recently hosted 800 children during Take Our Children to Work Day, which was the first large event to take place since the pandemic. During the event, more than 200 volunteers assisted with 50 activities across the Space Park campus. The event brought together Northrop Grumman employees and their families for a variety of activities with the goal of supporting diversity, equity, and inclusion, and encouraging community outreach and volunteerism.
Learn what some of this chapter's members are saying:
"NGWIN allows me to have a community to connect with and relate to," said Cindy Hsu Davis, a Human Resources organizational effectiveness manager, who added that she loves being with other amazing, talented women in Northrop Grumman.
Systems engineer manager Michelle Sakamoto, an NGWIN member for 17 years, shared that being a part of NGWIN has been a rewarding experience. "I can't believe how many incredible employees volunteer outside their work time to make a difference in their communities."
For Virginia Mejia, a principal systems test engineer, hosting and planning events that create unity, empowerment and professional growth has been especially rewarding. "NGWIN gives women a platform to communicate and grow together, creates a safe place for women to be their authentic selves, and supports a culture of belonging at Northrop Grumman," she said.
Adelante provides an inclusive environment that aims to foster a sense of belonging, with an emphasis on highlighting Hispanic, Latinx and collective heritage.
Adelante's Azusa, California chapter members share a passion for giving back to their community. Each year, they collect and donate school supplies to elementary schools.
Staff engineer Rosie Garcia established this annual donation drive while acting as the chapter's community involvement committee chair. "The school around the corner [from the Northrop Grumman Azusa site] was in session and we would see the kids walking to school. There was a great need to be met and that inspired me to start a donation drive."
Since then, the chapter has donated hundreds of school supplies to elementary schools in the Azusa Unified School District, pausing only during the pandemic. This year, Adelante restarted the donation drive, resulting in the donation of 319 pencil box cases filled with supplies, just in time for school.
The supplies were delivered by Adelante's Azusa Chapter Chair, Arando Alvarez, a senior principal systems engineer, and Adelante Azusa Community/STEM Committee Chair Adrian Iniguez, an engineering technician.
"We had called the school district and arranged the date, but the school's principal had been so busy that we caught him by surprise," Arando said.
Adrian said the school's principal was moved by the donation. "The principal was in shock and was very grateful," said Adrian.
Adelante members are passionate about serving their communities and seeing positive impacts. "This has been a labor of love since we started," shared Rosie. "To see the kids' smiling faces; it is such a little thing, but it brings joy to me."
Veterans, Employees and Reservists Inspired to Act and Serve (VERITAS)
VERITAS is an all-inclusive ERG committed to recognizing and supporting veterans, active duty, Reserve, and National Guard service members through community outreach and networking programs.
Lionel Cox, senior principal logistics planner and VERITAS member, shared his love for this ERG as it, "provides a connection to people and fosters a brother/sisterhood that is missed upon leaving the military."
He goes on to share how it's a great way to collaborate and support projects that make a difference for employees and their families. One project is Wreaths Across America, a VERITAS co-sponsored annual fundraiser that raises funds to place a wreath on the graves of fallen veterans during the holiday season.
"Every chapter of VERITAS supports the Wreaths Across America program," says Lionel. The ERG actively encourages employees and their families to help meet their goal of sponsoring 7,000 wreaths. Additionally, Northrop Grumman matches donations made through our dedicated fundraising page up to $85,000.
Employees can also volunteer to place wreaths at local cemeteries, whether as an individual or as a group. Visit the My Giving Portal to learn which Northrop Grumman events are taking place near you. Once on the portal, select "Volunteering" then "Search for Events" and keyword search "Wreaths Across America." If there's not an event near you, there's an opportunity to lead one. View instructions for leading an event or attend a webinar on Nov. 15 to learn more.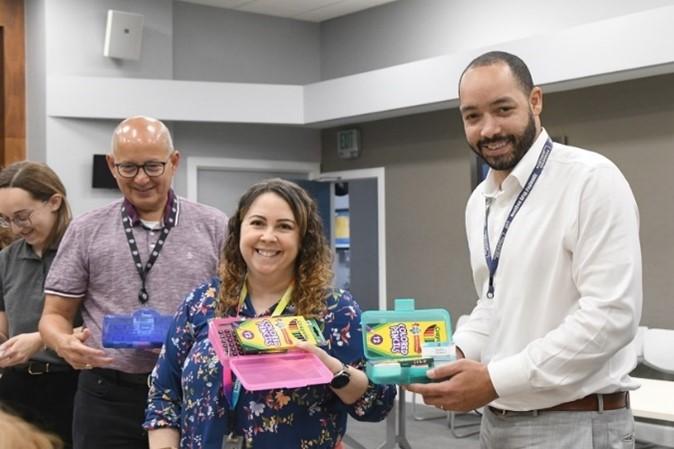 Written by: Mackenzie Reulein